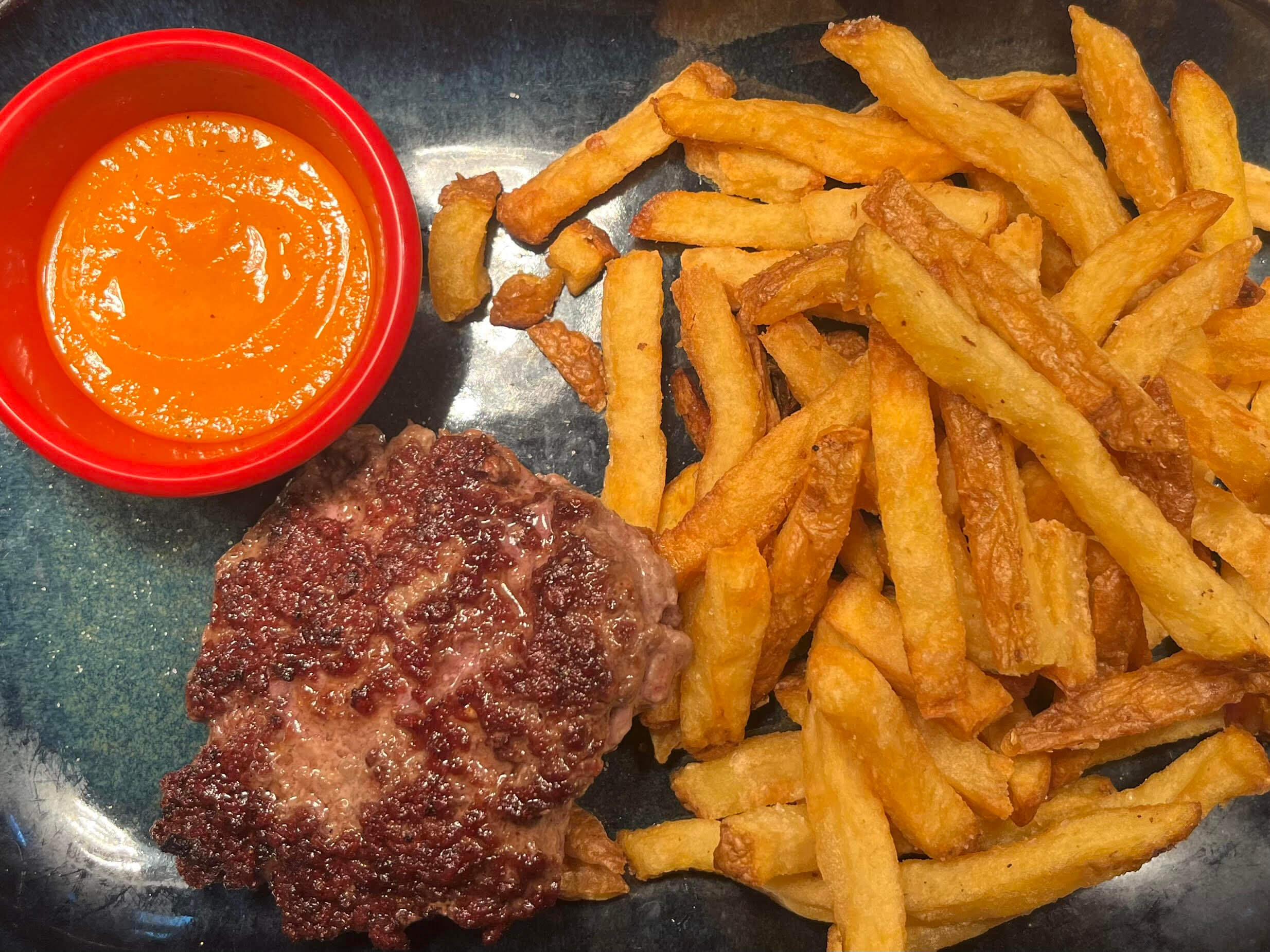 UGBY RWC 2023 – DURING THE MATCHES, LET'S GIVE THE LITTLE ONES A TREAT!

RUGBY RWC 2023 – DURING THE MATCHES, LET'S GIVE THE LITTLE ONES A TREAT!
France is preparing to host the Rugby World Cup 2023. With 48 matches organized in 10 host cities, including Paris and Saint-Denis, the organizers promise 51 days of festivities in a spirit of openness beyond sport, even if this competition brings together the best rugby teams from each country to compete in matches of rare intensity.
But this event is not just for grown-ups. The little ones can also enjoy the event, thanks to special initiatives such as the children's menu offered by BEEF STEAKHOUSE PARIS. Whether you're a fan of beef, matured or exceptional, or of entrecôtes, bavettes, Angus beef ribs, Argentinian entrecôtes, French fries and/or homemade purées, leave room for the little ones, so that everyone can enjoy the 2023 back-to-school season to the full
MENU FOR THE LITTLE ONES!
Located in the heart of the French capital, BEEF STEAKHOUSE PARIS is renowned as one of the finest meat restaurants in the world. With its tasty cuisine and friendly atmosphere, BEEF STEAKHOUSE PARIS is a favorite among lovers of good food. But BEEF STEAKHOUSE PARIS doesn't stop there. To include everyone in the rugby party, our restaurants offer a children's menu. It features a chopped steak (150g chopped prime rib), crispy home fries, all accompanied by a soft drink (water syrup or sodas from a wide à la carte selection). But what really sets the BEEF STEAKHOUSE PARIS children's menu apart at this Rugby World Cup France 2023 is its equally festive atmosphere. Our two Parisian addresses will offer live parties as a meeting place for tricolored fans, but not only. Our restaurants are designed to be a place where all the nationalities present in Paris can come together for the entire duration of the competition. Let's celebrate the festive union above all!
Not to be forgotten!
The Rugby World Cup in France 2023 is an ideal opportunity to share moments of pleasure with the whole family. Thanks to the children's menu at BEEF STEAKHOUSE PARIS, the little ones can enjoy the excitement of the tournament, while savoring a quality meal. While children will be delighted to be included in this great back-to-school party, note that for this 10th edition of the event, with 48 matches on the menu and 51 days of festivities, BEEF STEAKHOUSE is pulling out all the stops by offering a special deal for fans with chef Daniel Renaudie's selection of prime rib for two 2 pints of beer at 89€ (instead of 109€). Reservations www.beef.fr. 2 addresses: 33 rue des Rosiers Paris4 / 10 rue de Paradis Paris10. Fan groups welcome. @ All rights reserved BEEF STEAKHOUSE 2023.