Welcome to the restaurant
Le Beef : 2 address in Paris
"Le Beef restaurant SteakHouse 33 rue des rosiers 75004 Paris".
"Le Beef restaurant SteakHouse 10 rue de Paradis 75010 Paris".
In the kitchen, the young Daniel Renaudie, Franco-Israeli, raised in Jerusalem then in Tel Aviv, spent time there in the kitchen of Raphy Cohen at the Raphaël, but also in Amsterdam at the starred Intercontinental la Rive, arrives in Paris in our Steakhouse
Discover our roofed terrace
Discover our Summer 2023 Steakhouse menu
Restaurant
Meat of exception
Le Beef Steakhouse Paris is mainly focused on high quality beef. Le Beef is our exclusive selection of exceptional and matured meats selected every week by our butcher.
The vegetable is not forgotten, every day, the chef Daniel buys from an organic and local farm near Provins in the Greater Paris. Fruits, vegetables and free range eggs could not be fresher and more local.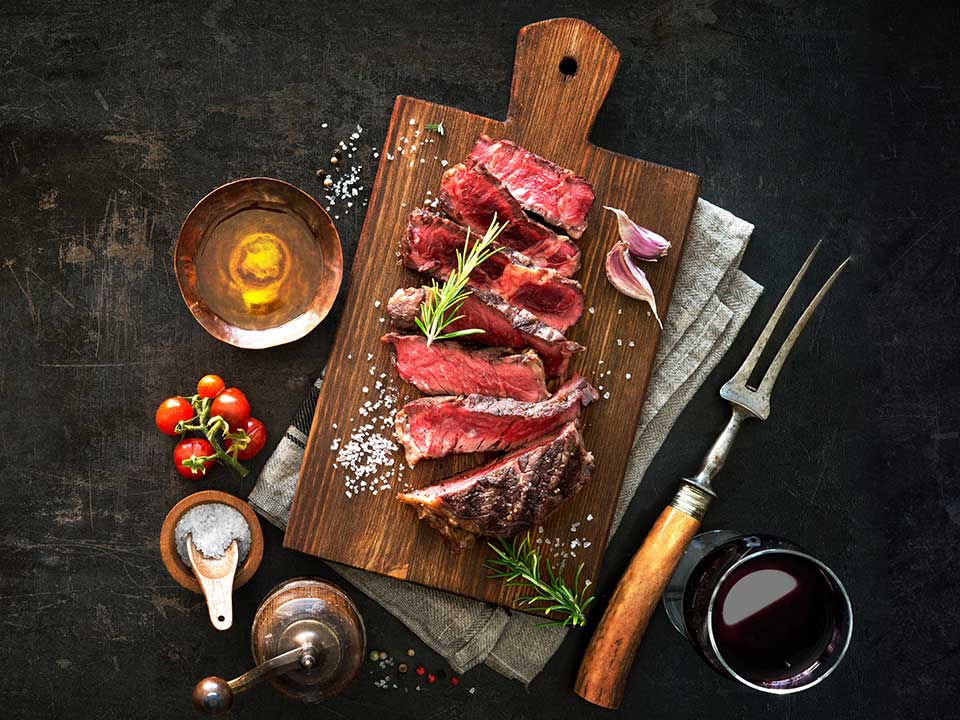 Meat
Matured meat specialist
Tasting matured meat is an experience in our steakhouse in Paris. The tenderness of the beef and the taste quality are exceptional. There are several breeds of meat and different maturation times, so it's a good opportunity to try it out. You have to eat it to please yourself! Le Beef initiates you to the tasting of matured meat.
The maturing process has always existed. The old butchers were already maturing in the cold rooms. What is new is the control of the process and the duration. Today, the meat is matured for at least 30 days in a dedicated cellar.
La creme de la creme
Today at Beef Steakhouse restaurant
Entrecote matured on carcass (300g)
35.00 €
"We left the Manzo very happy: excellent meat, perfect cuisine, excellent welcome! A pleasant environment, rare to see quality in such a touristy place. Thank you! We'll be back!"
Laugan
"To all meat lovers, step forward! A paradise for carnivores and gourmets! The meats are succulent! You can choose your meat in the window as well as your wine. An interesting selection of wines at more than fair prices. To top it off, the service in the dining room is friendly and welcoming. We will be back without hesitation!
Alexandre Barriere
"Discovered by chance... by smell! This restaurant offers an exceptional selection of meat. Quality meat, perfect cooking, ideal accompaniment - a delight. The place is not big and it is better to book. The owner is very friendly. The choice of suitable wine is remarkable.
Franco
Reservation Steakhouse
33 rue des rosiers
+33 (0)9 81 34 91 79
hello@beef.fr