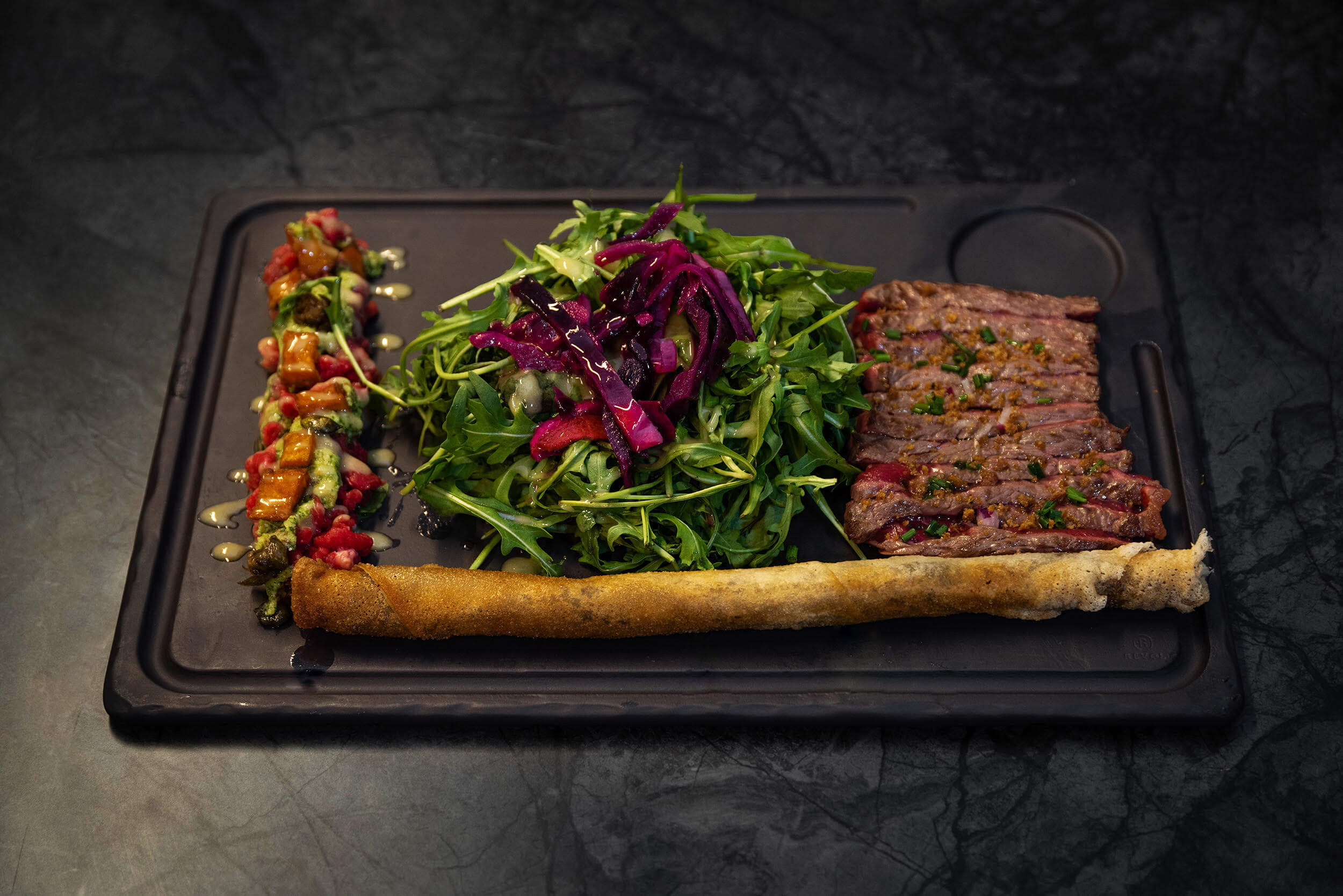 RUGBY RWC 2023 – PRE-MATCH BEEF APERITIFS TO SHARE

RUGBY RWC 2023 – PRE-MATCH, BEEF APERITIFS TO SHARE
France is getting ready to host the Rugby World Cup 2023, with 48 matches organised in 10 host cities. Get ready for 51 days of celebration in a spirit of openness that goes beyond sport. 16 years after the last edition in France, the Webb Ellis Trophy and the twenty best rugby teams in the world are back to compete in a World Cup that fans have been waiting for! BEEF STEAKHOUSE PARIS is looking forward to bringing this event to life for you. If you like beef, matured meats, exceptional meats or simply entrecôtes, bavettes, beef ribs or even Angus beef ribs, as well as Argentinian entrecôtes, home fries and/or purées, then you've come to the right place!
The pre-match aperitif!
Next autumn, it all starts with a crazy opening weekend in Paris, Marseille and Bordeaux, with 8 matches on the programme, including the magnificent France v New Zealand in the Ile-de-France region. Then the party will continue in all 4 corners of France throughout the 4 weeks of the group phase. The adventure will come to an end in Marseille and Paris with 3 final weekends of rugby where the top 8 nations will battle it out to win the legendary Webb Ellis Cup. But until then, what happens when a passion for the oval ball meets a passion for good meat? At BEEF STEAKHOUSE PARIS we'll be bringing you live coverage of the matches in real time. And because, like many fans, we're passionate about good food, the RWC2023 is an opportunity to showcase in-house expertise and excellent products. BEEF STEAKHOUSE PARIS will be serving up some great dishes, whether you're dining alone or with friends! Let's start with the beef charcuterie plate. Here, discover a tasty mix of homemade rillettes, sausage and bresaola with salad and pickles. For those who want to take the experience a step further, discover the carnivorous plate. It includes the Chef's essential crispy French Cigar (a sheet of brick pastry stuffed with our secret blend of Provençal-flavoured beef) or our tartare of the moment (pure thick-cut flank steak)… And let's not forget the vegetarian plate with its clever combination of vegetables of the moment, the Chef's mash and chips, cheese and pickles/salad. As you can see, the chef's creations vary according to the season. In any case, the BEEFs will make you love match evenings over gourmet dishes. A great way to support Les Bleus..
Don't forget!
You don't have to play or be a supporter to "Be rugby". Rugby expresses itself far beyond the pitch. Above all, let's get together and make a note of these dates: Friday 08 September: FRANCE v NEW ZEALAND. Stade de France. 21H. Opening match. Thursday 14 September: FRANCE/URUGUAY. Stade Pierre Mauroy. Lille Metropole. 21H. Thursday 21 September: FRANCE/NAMIBIA. Stade Vélodrome. Marseille. 9pm. Friday 06 October: FRANCE/ITALY. Parc OL. Lyon. 21H. CALLING DATES: 09 September: ENGLAND/ARGENTINA. 23 September: SOUTH AFRICA/IRELAND. 24 September: Wales/Austria. 07 October: Ireland/Scotland. So who will succeed the Springboks (South Africa), the 2019 winners in Japan? Don't miss this event. Book now at BEEF STEAKHOUSE. Follow the matches live. BEEF STEAKHOUSE PARIS is offering a special deal for fans with a selection of prime rib from chef Daniel Renaudie for two 2 pints of beer at €89 (instead of €109). Book in advance at www.beef.fr. 2 addresses: 33 rue des Rosiers Paris4 / 10 rue de Paradis Paris10. Supporters welcome. @ All rights reserved BEEF STEAKHOUSE 2023.