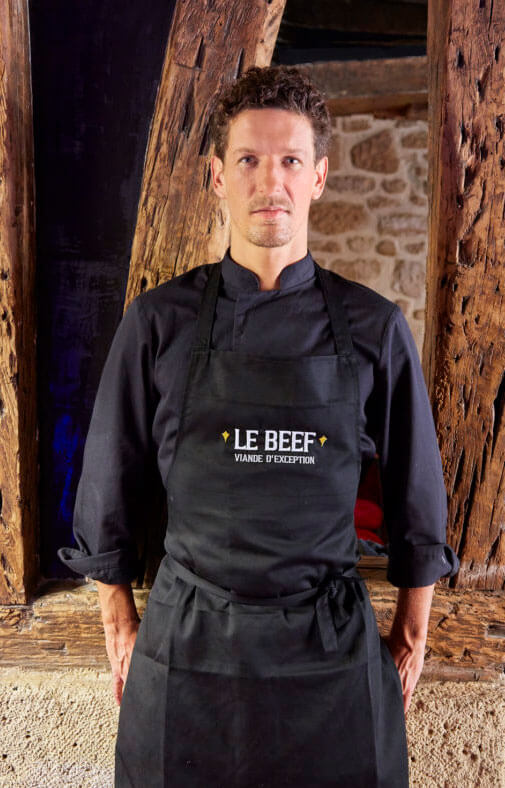 RUGBY RWC 2023 – DANIEL RENAUDIE, HEAD OF BEEF MARAIS & PARADIS

RUGBY RWC 2023 – DANIEL RENAUDIE, HEAD OF BEEF MARAIS & PARADIS
What are you doing in 2023? France is about to host one of the world's most prestigious sporting events, the Rugby World Cup. Rugby fans from all over the world are preparing to travel to France to support their favorite national teams and enjoy the breathtaking spectacle offered by this intense sport. The event is sure to attract many visitors to the host cities, including Paris. The capital has plenty of surprises in store for rugby fans, as well as for those with a passion for good food, particularly beef, matured, exceptional or other entrecôtes, bavettes, Angus beef ribs, Argentinian entrecôtes, fries and/or homemade purées at BEEF STEAKHOUSE PARIS!
CHEF DANIEL RENAUDIE!
Among the many Parisian restaurants gearing up for the event, BEEF STEAKHOUSE PARIS stands out. Located in the heart of the capital, these must-visit restaurants for "viandards", as they say, are headed by renowned chef Daniel Renaudie, who is ready to impress visitors with his refined, tasty cuisine. BEEF STEAKHOUSE PARIS is renowned for its top-quality meat, prepared with care and expertise. The chef makes a point of selecting the very best cuts! Daniel Renaudie is a young and talented Franco-Israeli chef, ready to thrill your taste buds. Mediterranean influences, a taste for adventure, international renown: these are the words that describe both Daniel Renaudie and his cuisine. He has been in charge of BEEF MARAIS (Paris 4) since its opening in 2020, as well as BEEF PARADIS since February 14, 2023 (Paris 10). The chef designs each menu entirely according to season, focusing on his signature dishes that are sure to melt the palate! Thanks to the Chef, during this Rugby World Cup 2023, BEEF STEAKHOUSE PARIS will be honoring beef, the symbol of our gastronomy!
Don't forget it!
MEMO: The 10th World Cup in the history of rugby will take place from September 8 to October 28, 2023. It's an opportunity to reconnect with the founding spirit of rugby and celebrate the event over the 7 weeks of the competition. In addition to a tempting menu, BEEF STEAKHOUSE PARIS will offer a warm and friendly atmosphere, ideal for sharing a meal with friends or colleagues before or after a session of thrills and spills on the pitch. Ready for an unforgettable sporting and culinary experience? Don't miss this event. Book now at BEEF STEAKHOUSE. Follow the matches live. BEEF STEAKHOUSE is even pulling out all the stops with a special offer for fans: chef Daniel Renaudie's selection of prime rib for two, 2 pints of beer at €89 (instead of €109). Reservations www.beef.fr. 2 addresses: 33 rue des Rosiers Paris4 / 10 rue de Paradis Paris10. Fan groups welcome. @ All rights reserved BEEF STEAKHOUSE 2023.