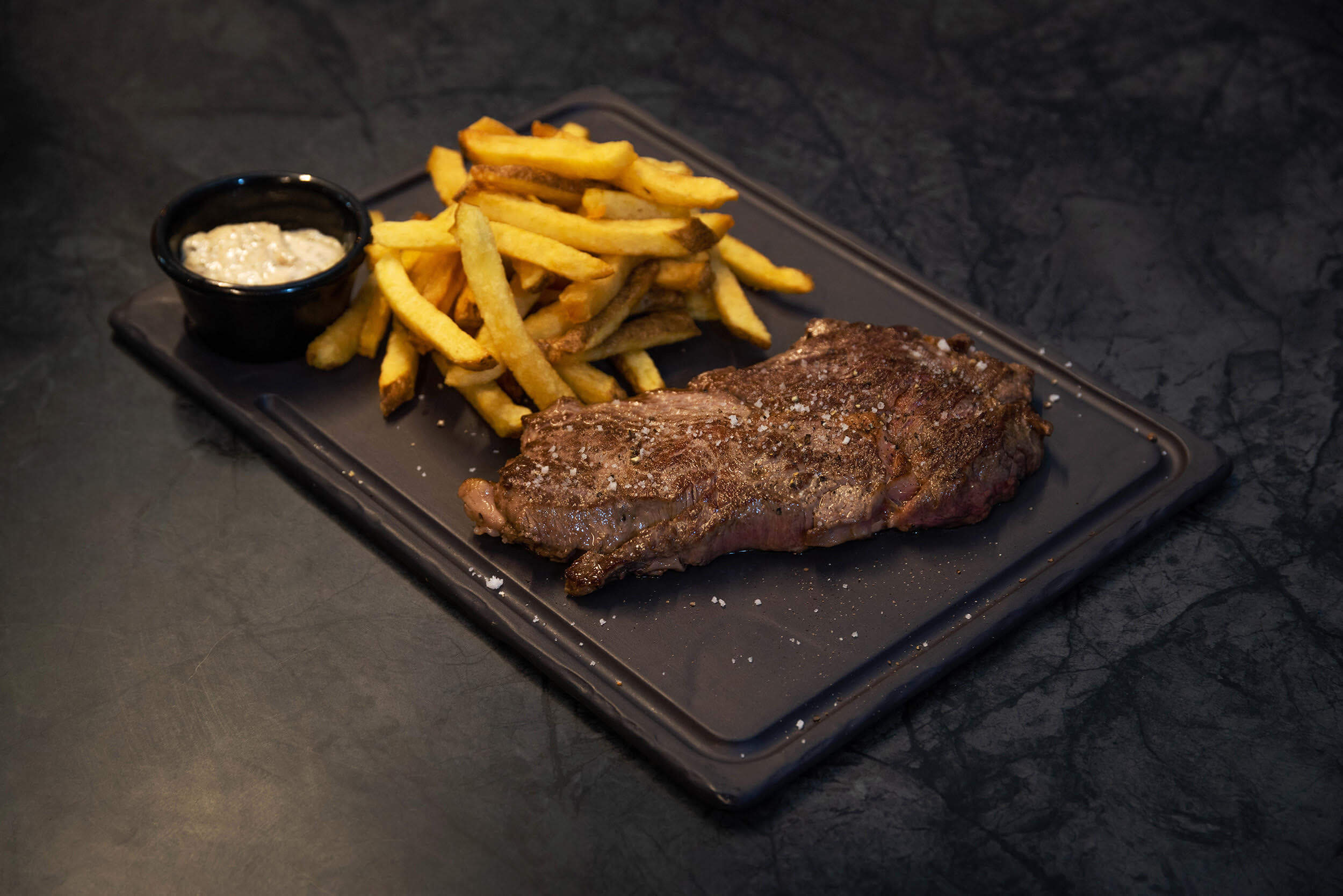 RUGBY RWC 2023 – BEFORE, DURING AND AFTER A MATCH: ENTRECÔTE STEAK!

RUGBY RWC 2023 – BEFORE, DURING AND AFTER A MATCH: ENTRECÔTE STEAK!
It's back-to-school time! France is getting ready to host the Rugby World Cup 2023. With 48 matches organized in 10 host cities, it promises to be 51 days of festivities in a spirit of openness that goes beyond sport. After the 2007 edition, this will be France's second time hosting the event, and we're not going to miss it. From September 08 to October 28, 2023, 10 cities have been chosen to host the matches: Lille, Bordeaux, Marseille, Saint-Etienne, Nantes, Toulouse, Lyon, Nice and Saint-Denis. Paris, meanwhile, is preparing to open the RWC2023 Village on Place de la Concorde, not far from our two Paris addresses. Are you ready?
Exceptional meat!
If you like beef, matured meats, exceptional meats or simply rib steaks, bavettes, beef ribs or even Angus beef ribs, but also Argentinian rib steaks and homemade fries and/or purées, get ready to feast for real! It's already 16 years since the Webb Ellis Trophy and the world's top 20 rugby teams returned to France for the eagerly-awaited World Cup! Les Bleus open the competition on September 08, when they take on New Zealand at the Stade de France. The date is set. To mark the occasion, at BEEF STEAKHOUSE PARIS, we've decided to bring you live coverage of the World Cup. It's a unique opportunity for you to enjoy good meat and good company. After all, rugby and French savoir-faire on the plate go back a long way. What better way to round off an evening of sport than with a good piece of beef? Do you like authenticity and character? Entrecôte is for you! Along with prime rib, entrecôte is one of the most emblematic cuts of beef. Entrecôte can be grilled or pan-fried. Entrecôte and rib are derived from the same piece, the midrib. This muscle, which covers the dorsal vertebrae, lies between the 5th and 11th ribs. Entrecôte is not, as its name suggests, cut between two ribs; it's a boneless beef rib. In our Chef's Best or XXL versions, entrecôte represents 300g of rich, marbled, carcass-aged perfection. Enjoy this particularly tender cut.
MEMO: Highly-anticipated by fans of the oval ball, the event promises to appeal to far more than just football fans. Look forward to unforgettable moments of sharing at our two Parisian addresses. Take note of the key dates for Les Bleus in Group A: Friday, September 08: FRANCE/NEW ZEALAND. Stade de France. 21H. Opening. Thursday, September 14: FRANCE/URUGUAY. Stade Pierre Mauroy. Lille Metropole. 21H. Thursday, September 21: FRANCE/NAMIBIA. Stade Vélodrome. Marseille. 9pm. Friday, October 06: FRANCE/ITALY. Parc OL. Lyon. 21H. Don't miss this event. Book now at BEEF STEAKHOUSE PARIS. Follow the matches live and take advantage of the offer for fans with Chef Daniel Renaudie's selection of prime rib for two 2 pints of beer at 89€ (instead of 109€). Reservations www.beef.fr. 2 addresses: 33 rue des Rosiers Paris4 / 10 rue de Paradis Paris10. Fan groups welcome. @ All rights reserved BEEF STEAKHOUSE 2023.