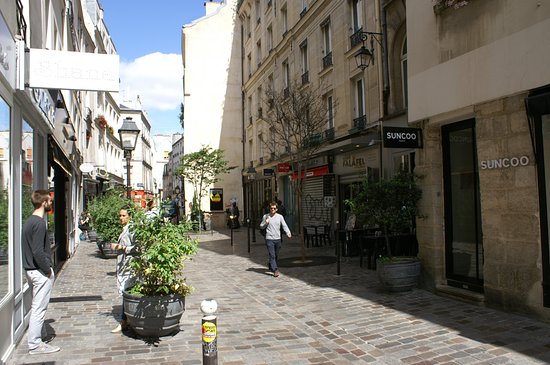 The history of the rue des Rosiers, by the Beef, steakhouse in Paris

From the Middle Ages to the present day: the history of Rue des Rosiers
Do you know the Pletzl? No, it has nothing to do with the Alsatian pretzel! It is the Yiddish translation of Marais. Because the mythical rue des Rosiers (75004 Paris) has been famous for its Jewish community since its creation. A short stroll through time..
From the 13th to the 19th century, a street favoured by Jewish immigration
The street was built in 1230, along the ramparts of a certain Philippe Auguste. Its name is due to the presence of rosebushes that brighten up the surrounding gardens. The Knights Templar, who gave their name to the famous Temple district, brought the first Jews here on a crusade, accompanied by spices and exotic products. Shortly before the French Revolution, there were more than 2,000 Jews in the district, whose kosher butcher shops were located in Rue des Rosiers
During the Belle Époque, the street saw the birth of two emblematic characters: a very famous theatre actress called Rachel, and a colourful prostitute nicknamed Casque d'Or..
Sephardim join the Ashkenazim
Traditionally inhabited by the former Jews of Paris, the street gradually welcomed Ashkenazi Jews during the 20th century. They came mainly from Poland and Hungary, as well as Sephardic Jews repatriated from Algeria. The infamous bombing of 9 August 1982 plunged the community into mourning, already shaken by the Vel d'Hiv roundup in 1942.
The revival of Rue des Rosiers
In 2006, the Rue des Rosiers became pedestrianised over a large part of its 303 metres. This has made it easier for more and more tourists to visit. Find out why the street has become so popular nowadays. Many trendy shops are opening their doors, and in 2020 it is the turn of our meat restaurant to proudly open its doors.
To complement the various food shops on the street, the Beef offers exceptional meats. The meat is matured for 30 days. On the menu, marbled meats, rib steaks, flank steaks and other tomahawks. They are prepared by chef Daniel Renaudie. Don't forget to make a reservation in our steakhouse, open for lunch and dinner, 7 days a week!